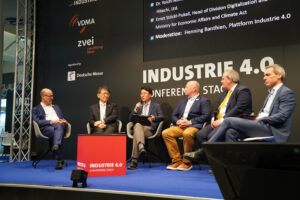 The recent panel discussion at the Hannover Messe, organized by Platform Industrie 4.0, brought together industry experts from different nations to discuss the shaping of digital ecosystems globally. The participation of the Oscar Lázaro as Project leader of The DFA´s flagschip project EU Data Space 4.0 in this discussion is of significant importance.
With increasing globalisation, the dependence of countries on each other is also growing. The business representatives on the international panel at the Hannover Messe agreed on this. In order to be competitive, sustainable and resilient in the future, companies must share their data. They saw potential for this in initiatives such as Manufacturing-X.
Japan: A well-planned Data strategy is crucial sectors such as education, infrastructure, energy, and mobility, highlighting the collaborative efforts of governments and companies to drive its implementation
Dr. Yoichi Nonaka, Corporate Chief Researcher at Hitachi's Robot Revolution & Industrial IoT Initiative (RRI), emphasized the importance of international data ecosystems and the concept of "Society 5.0" during the discussion. Japan aims to enhance its resilience to natural disasters and secure long-term prosperity by establishing digital structures aligned with data spaces. Nonaka highlighted that trust is a crucial element for international cooperation, particularly when creating a global standardization of data systems. National ecosystems, such as those in Germany, Japan, and Korea, should be internationalized while considering cultural backgrounds.
Korea: Collecting data is a crucial step towards promoting a data strategy, particularly in important or potential sectors like hydrogen, electricity and construction
Kwang Hyun An, President of the Korea Smart Manufacturing Office (KOSMO), highlighted the significance of cultural backgrounds and regional specialization in data utilization. KOSMO focuses on smart manufacturing initiatives that promote the improved exchange and utilization of data. An emphasized the importance of international cooperation, particularly with Germany's Industrie 4.0 platform, with whom they have been collaborating since 2019 in the field of data spaces. Effective international cooperation is seen as a crucial tool for success in achieving their goals.
USA: To ensure widespread access to these benefits, we must democratize and reduce the costs
John Dyck, CEO of CESMII – The Smart Manufacturing Institute, highlighted the collaboration between the Plattform Industrie 4.0 and the United States. He showcased the joint demonstrator for the "Supply Chain Resilience and Carbon Reporting" use case, which serves as a tangible example of international interoperability and synergy utilization. This is necessary to democratize access to innovative processes and smart manufacturing. According to Dyck, the United States is currently experiencing a "digital divide," with thousands of companies taking a leading role in digital processes while many others lag behind. To bridge this gap, cooperation and interoperability at all levels are required. Only through this can seamless data connectivity and a more inclusive approach to digitization be achieved. Dyck emphasized the exemplary role that Germany plays in this regard, with its rich tradition of collaboration between industry, research, and education.
EU/Spain: Oscar Lazaro advocates for the inclusion of SMEs at every stage of development of data spaces
One prerequisite for successful multilateral collaboration is the alignment of individual continents. This perspective was explained by Oscar Lazaro, Managing Director of Innovalia Association and Project Manager of the EU project EU Data Sp4ce. He outlined the requirements for decentralized data spaces in Europe. The most important aspect is a shared European vision and an inclusive initiative that allows everyone to participate. Additionally, mechanisms need to be established to actively involve small and medium-sized enterprises. Lazaro illustrated this with the example of the EU project EU Data Sp4ce, which aims to harmonize country-specific Industrie 4.0 initiatives: "We need to create a common platform for how these data spaces should be established at the European level, with uniform standards," said Oscar Lazaro.
Germany: Getting SMEs onboard for data driven projects can be challenging but it is essential for building a competitive economy
Ernst Stöckl-Pukall, Head of the Digitalization and Industry 4.0 Department at the Federal Ministry for Economic Affairs and Climate Action, explained how the Manufacturing-X initiative can contribute to addressing these challenges. Manufacturing-X is envisioned as an international project because the future of the data-driven economy relies on global collaboration. The key to this is decentralized systems that can unleash their impact by involving small and medium-sized enterprises (SMEs). This represents a paradigm shift: "We don't want an ocean of data like in the past. In fact, today it's about the quality, not the quantity of data. The system must be intuitively applicable. We want to invite the whole world to participate and shape this development," said Stöckl-Pukall.