DFA Smart Rapid Response: a EU R&I Spotlight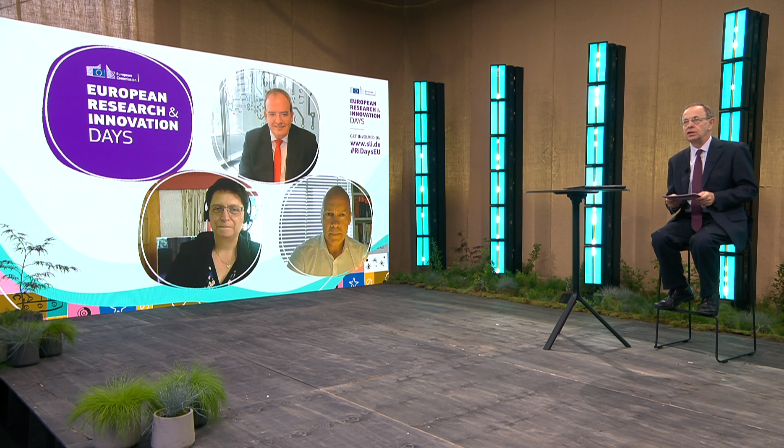 DFA shared the need for European manufacturing rapid response and repurposing capabilities to increase resilience at two European R&I Flagship events.
22th and 23th of June 2021 were a real milestone for the DFA, an international trusted community for digital factories stakeholders to foster knowledge sharing and industrial collaboration to achieve data-driven digital transformation. The DFA smart rapid response initiatives and challenges were presented in two of the most important events for the European Industry at the moment, which was a unique opportunity to share at the highest European and international levels the community concerns and proposals to improve resiliency through advanced production repurposing strategies.
During these events, Oscar Lazaro from Innovalia Association, one of the founding members of the DFA,  highlighted the urgent necessity for the manufacturing industry to be ready for fast and flexible repurposing to adapt factories' production processes and face any challenge that may be encountered after a crisis, such as the recent COVID-19 one (as proved in Eur3ka project), extreme climate events or political disagreements, among others, since all of them might force deep changes along the value chain. At the same time, Innovalia remarked the importance of shaping the future with data-driven solutions, boosting innovation performance and fostering deep collaboration between stakeholders, towards a digital, resilient and sustainable future. In such context, DFA once again noticed the real value of sovereign data spaces and the necessity of IDSA´s reference models to make smart rapid response possible at factory and value chain level by means of standardization and common practices.
More specifically, during European R&I Days -aimed at shaping the future of the Research and Innovation field of Europe-  the DFA, represented by Eur3ka project, participated in a Production Repurposing panel, in the Fast and flexible-repurposed production session, under the scope of the Manufacturing Global Response Initiative (MGRI). (This event is now available on the Digital Corner on the DFA´s website. Watch it again on the following link.)
On the other hand, during IDSA Summit 2021 – one of the most relevant events for secure and trusted Data Spaces building- the DFA had a virtual booth where its 4 main pillars were presented:
Access to a Body of Knowledge (BoK) (4 Industry Report and 4 for Business) for DFA members (large industries and SMEs) to be the first to know and realize with excellence digital Zero-X manufacturing processes.
Cultivate a Business Network for business development and access to certified interoperable digital products and platforms. DFA members are the first to profit from cost effective and future proof digital solution adoption by the partners they trust.
Steer an Innovation Campus through collaboration with best of breed digital and advanced manufacturing hubs and innovation and sectorial associations. The goal is for DFA members to be the first to be inspired for early adoption of digital solutions and incubation of manufacturing innovation initiatives.
(This event is now available on the Digital Corner on the DFA´s website. Watch it again on the following link.)
Both flagship events congregated entities of different nature, and they were a complete success, according to the respective organizers.
Mariya Gabriel, European Commissioner for Innovation, Research, Culture, Education, Youth and Sport, expressed her gratitude on Twitter after the closure of the European R&I Days: "What a wonderful European R&I Days! Now we have learnt from the past, let's shape our future together. We need to support our researchers, innovators and universities and cooperate with MS, regions, European citizens and younger generations."
On its side, Jean-Eric Paquet, Director-General for R&I in the European Commission, also claimed on Twitter that all the expectations had been meet: "Thanks to the 21,000 of you who registered and to the 8,000 who visited our exhibition, which will remain open. These amazing 2 days were a great opportunity to see what Mariya Gabriel expects from us, which is to engage with you!".
Equally, IDSA Summit 2021 was not let behind. "We are overwhelmed by the Summit: 20 sessions with 1,200 minutes of great content, 900 registrants from 50 countries, the first live music since a long time, countless remarkable statements" stated Andreas Kembuegler, Head of Marketing and Communications in IDSA. He also highlighted one of the numerous statements, which summarizes the main purpose of IDSA: "If IDS would not have existed, we had to invent it. Exactly what we need: Open source, a federal, distributed data architecture with standardized connectors, with those core functions inside – this was a gift from heaven for us."
In this situation, the DFA will continue working hard to spread its message, enlarge its community and broaden its actuation field. The initiative is now set on the right direction and it is only a matter of inspiring others to follow the right path.