Autonomous In-line Quality Inspection Agent for Yield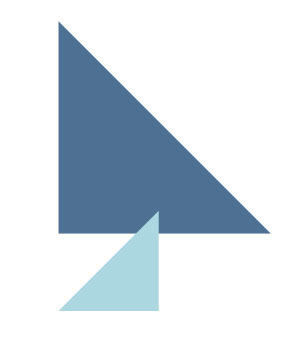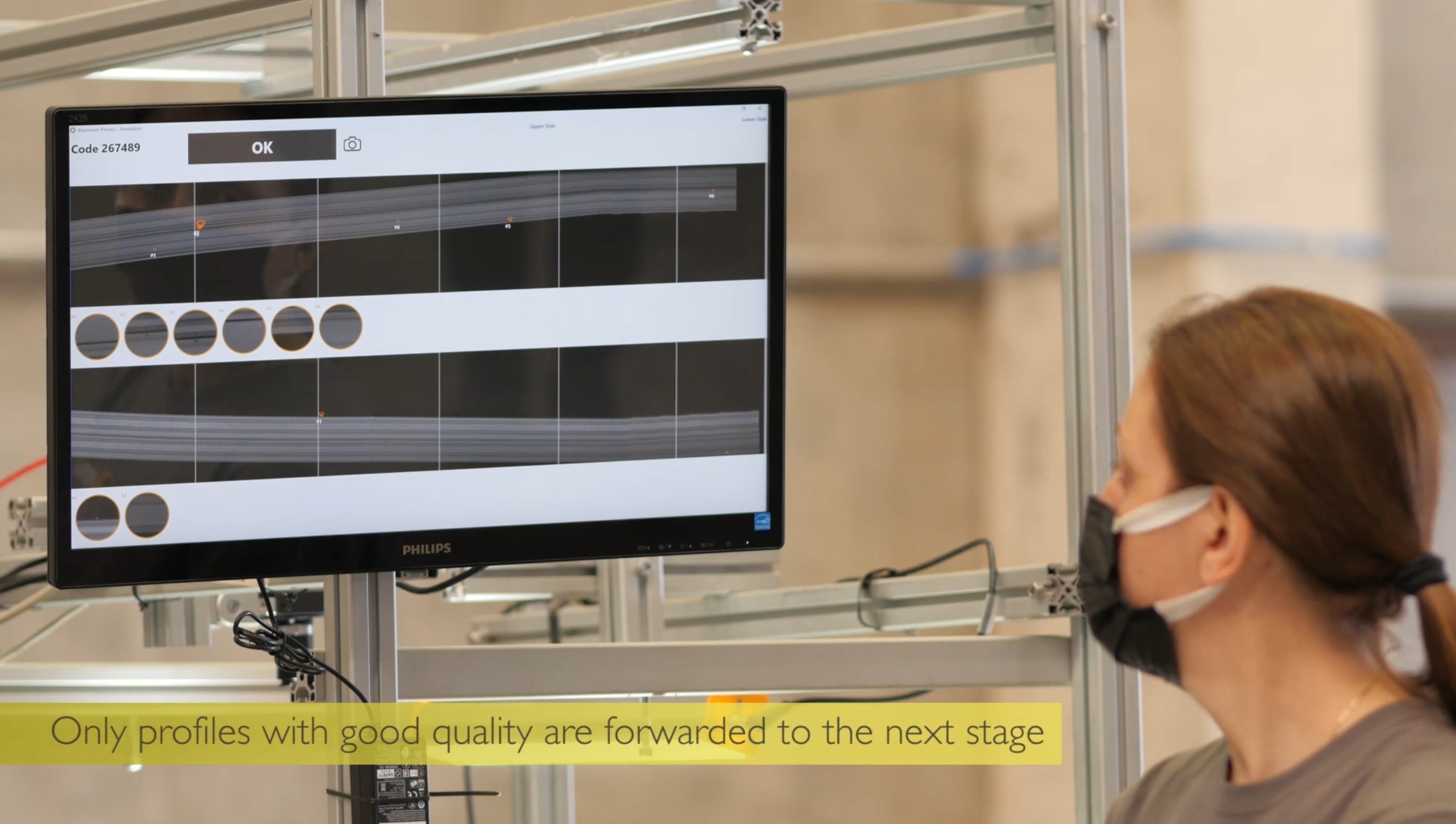 ALUMIL is the largest aluminium industry in Greece. The company has more than 30 years of history and 2.200 employees, in the design and production of architectural aluminium systems, and is one of the most advanced companies globally owning state-of-the art production lines in 12 factories located in 6 countries and 11 aluminium extrusion lines with a capacity of 100.000 tons.
Data-Driven Digital Process Challenges
The aluminium extrusion process is a complex process comprised of various stages: extruding, stretching, ageing, cutting, anodizing, powder coating etc. For quality assurance purposes, samples of the first few extrusions are taken for visual inspection. However, the speed of the production and the level of detail required to detect all types of non-conformities, make this process inefficient.
Big Data Business Process Value
The Vigilant 4.0 trial considers two main business processes for implementation:
Automated production orders: Vigilant 4.0 acts as a decision-making system, that performs automated profile sorting based on the quality of their surface. This procedure guarantees the reduction of scrap propagation in later production stages and the minimization of claims. On top of that, automated production orders are generated based on the number of the detected marketable profiles, allowing for time-to-market reduction.
Real-time/proactive identification of scrap generation:  Vigilant 4.0 provides real-time / proactive identification of quality deterioration to initiate recommendations to the operators for in-time remedying and scrap reduction. To achieve that, production data and quality findings were analysed using the QARMA enabler and revealed unknown error sources and corelations that eventually led to increased productivity for the production lines.
Large Scale Trial Performance Results
The Vigilant 4.0 trial has allowed the development of an autonomous Quality Inspection Agent that is installed before and after the powder-coating process of an aluminium extrusion factory. It has achieved the prevention of scrap generation and scrap propagation, maximized the yield of the process and ensured the delivery of high-quality profiles in a timely manner. Vigilant 4.0 refers to an autonomous QA system, capable of making critical decisions based on the detected quality levels. It is installed in two key-points of the processing chain, before and after the powder-coating line, in order to optimize this resource intensive process of the secondary production.
The above have allowed the automated profile sorting with 97.5% accuracy, minimizing scrap propagation and claims/returns from the end customers. Moreover, the automated sorting decisions allowed the reduction of time-to-market by 18%. All in all, Vigilant 4.0 achieved an increase of yield by 30% and an energy reduction by 15%.
Value chain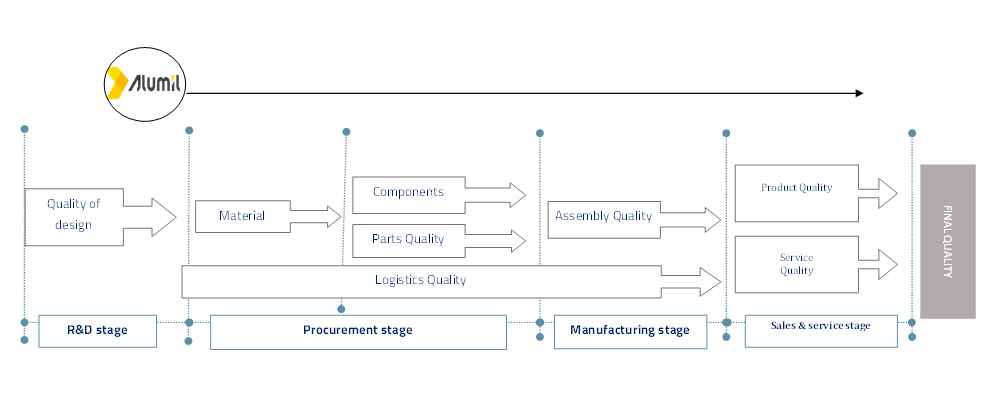 Observations & Lessons Learned
Vigilant 4.0 discovered new ways to utilize production data and reveal unknown error sources, minimize time-to-market and eliminate claims.
During this trial, ALUMIL realized that automated profile sorting outperforms standard manual processes, also eliminating bottlenecks. Off-line data analysis revealed error sources and bad practices in production procedures that were responsible for scrap generation. In-time remedying can have a huge impact in production costs.
Production optimization depends significantly on production data, the availability of which can vary in different companies. Finally, workers gain gradually confidence to the system as they realize system's performance and benefits.
Replication Potential
Vigilant 4.0 node can be installed as-is in any processing line of an extrusion factory (after extrusion, before and after powder coating). Moreover, during this trial, OPC-UA interfaces and protocols developed enabled the fast and easy integration with any system of the client (MES, ERP, PLC). Available production parameters may vary among companies, and a custom-made design for the optimization of the production may be required.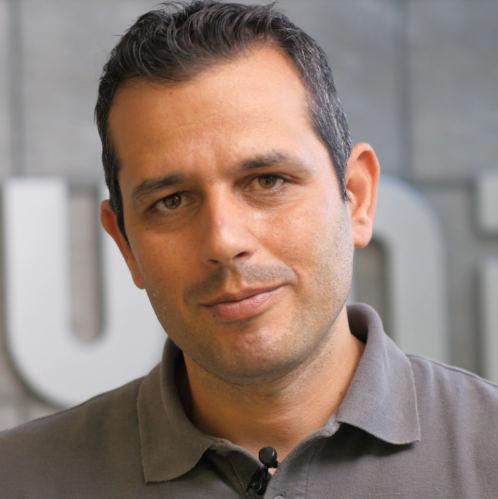 Using Vigilant 4.0, we achieved a lot of our goals. The first achievement is that we reduced energy by 15%. The yield increased by 30%. And so far, we have no claims about powder-coating.
Kostas Tourountzis
Quality Control Supervisor, ALUMIL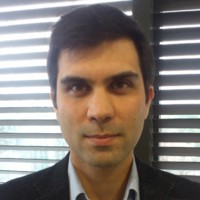 The installation of the system has created positive knock-on effects both in the firm's production and in its relationships with its customers. In the past, the inspection of dyed or undyed surfaces relied on subjective assessments and, thus, was depended on the experience and competence of the observer. Through the system we developed with the support of D-Cube, a computer is now the observer and its findings cannot be disputed. Vigilant 4.0 can be used as a tool to promote our products in new, demanding markets.
Christos Grapsas
EU Co-funded Project Development and Implementation Officer, ALUMIL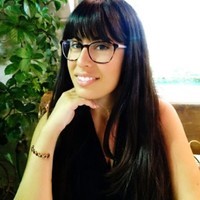 Vigilant 4.0 enables the optimization of the extrusion factory resources, not only by reducing the unnecessary processing of defective profiles but also by creating automated production orders that subsequently minimize the time-to-market.
Eva Kesisoglou
Machine Learning Engineer D-Cube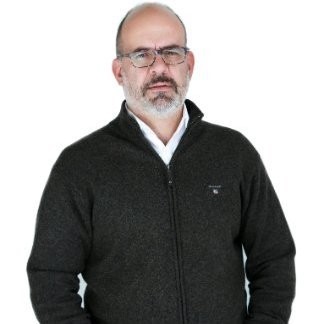 Industries across the globe need to embrace Industry 4.0 by leveraging AI, IoT, and other disruptive technologies. Therefore, they have to start small but think big, in order to minimize the risk of the original investment. D-cube's Vigilant 4.0 is a unique worldwide prototype enabling yield optimization for aluminium extrusion.
Dimitris Katsikas
CEO, Co-founder, D-Cube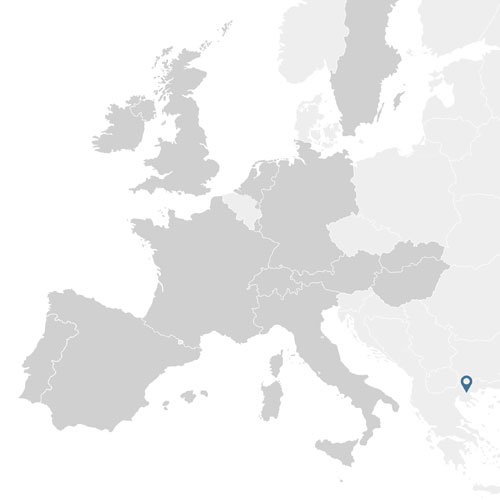 ALUMIL SA, Kilkis, Greece
Big Data Platforms & Tools
D-Cube's IoT Cloud platform
Big Data Characterization
Data types
Quality metadata
Production parameters
Sorting data
Number of sources
Vigilant 4.0 compound sensor
Machine parameters
Manufacturing Execution System
Productivity
PR1 – Increase of yield 30%
PR2 – Reduction of defective surface occurrence rate 49%
Speed
SP1 – Time-to-market reduction 18%
Sustainability
SU1 – Reduction of needs in energy resources 15%
Agility
AG1 – Accuracy of routing decisions 97.65%
AG2 – Reduction of claims 100%
Customization
CU1 – Industry 4.0 interfaces for easy integration with MES, ERP, machines YES
Adoption Assessment




Technical feasibility




Economic feasibility 




Replication potential