Registrations have closed.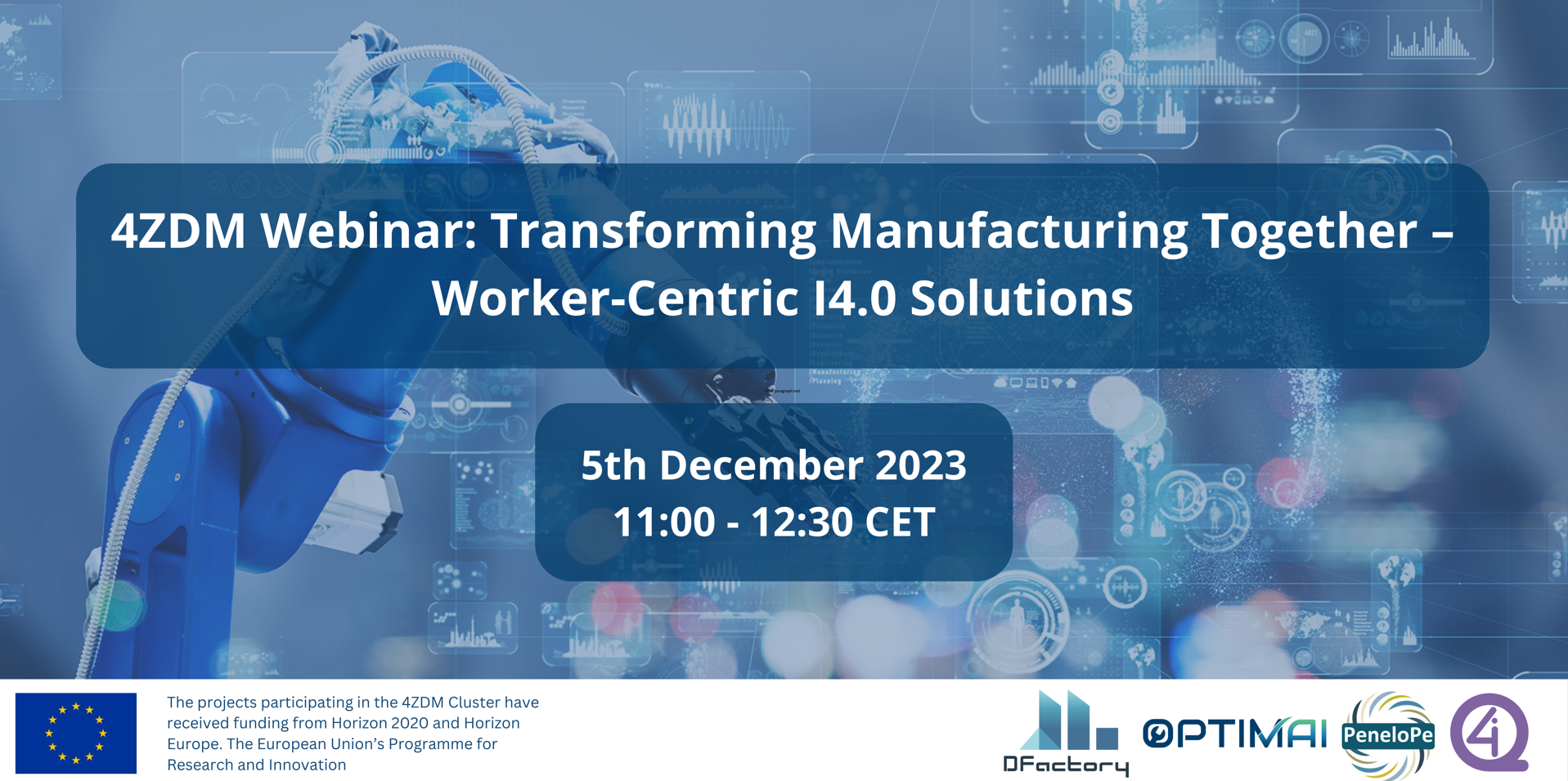 Transforming Manufacturing Together – Worker-Centric I4.0 Solutions
499
499 people viewed this event.
Join us for a webinar on the latest developments in the digital transformation of manufacturing, powered by European initiatives.
4ZDM cluster projects OPTIMAI, i4Q and Penelope will bring together Industry 4.0 stakeholders to discuss worker-centric zero-defect manufacturing solutions and challenges.
The projects will share recent highlights and lessons learned, and a panel discussion will allow for exchanging views and perspectives around the optimisation of manufacturing processes.
OPTIMAI, i4Q and Penelope have received funding from the European Union's Horizon 2020 research and innovation programme under Grant Agreement No. 958264, 958205 and 958303.
WHEN? 05 December 2023
WHERE? In the Digital Factory Alliance Zoom Room!
AGENDA
11:00
Welcome and Introduction
Moderator: Ms. Inés Arias, European Project Manager at FundingBox
11:10
OPTIMAI: https://optimai.eu/
OPTIMAI – Speaker: Dr. Nikolaos Dimitriou, OPTIMAI Coordinator, Postdoctoral Research Associate, Centre for Research & Technology – Hellas, Information Technologies Institute
11:25
i4Q: https://www.i4q-project.eu/
Speaker: Dr. Georgia Apostolou, Postdoctoral Researcher, Centre for Research & Technology – Hellas, Information Technologies Institute
11:40
Penelope: https://penelope-project.eu/
Speaker: Eng. Zoi Arkouli, Research Engineer, University of Patras, Department of Mechanical Engineering and Aeronautics
11:55
Panel discussion

12:25
Wrap-up

REGISTRATION FORM